When should Children have a Foot check?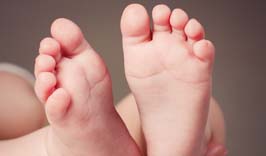 Pain, limping, tripping, toe walking and obvious differences between feet or legs in children should be assessed.
Children's feet and legs develop and change with age as a normal part of growth. There is an expected range of normal development against which we assess all our pediatric examinations. It is also important to consider family history and a child's individual development and activity participation during assessment.
At Western Sydney Podiatry we cater for the individual needs of the child and family. Often times, a quick and easy resolution can be as simple as parent-education and basic intervention (even no intervention). We are also happy to provide second opinions or alternative conservative treatment options where appropriate.
We love seeing heaps of happy, little, healthy feet running around. So if you think your child needs an assessment our podiatrists are more than happy to help.